The BBToH (Big Brown Truck of Happiness) showed up while I was at work today. Let's see what it left me
What's this? Some sort of Dreadnaught?
That's good. My Larrivees (save the 12) are all OM and smaller, I could use a good strummer.
Maybe we better look closer: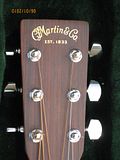 Ohh, my first Martin.
Wonder what it is? Let's look at the back.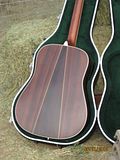 Oooh, I know what that is...
Two thoroughbreds:
I still need to swap in some fresh strings, but I got some pictures first. Hazy overcast this afternoon, so the colors are a bit washed out.
My first Martin, and a D-35 too boot. The D-35 was created in 1965 when Martin was trying to figure out a method of using smaller pieces of Brazilian rosewood. Brazil had just passed a "semi-embargo" on the wood. One could buy the wood, but it had to be cut/milled in Brazil. This was not really easy for Martin to do, and they switched over to Indian RW in 1970, but the 3-piece back of the D-35 remains to this day.
Also, Martin got clever. They added some additional binding, thus moving the design "upscale", so that they could charge more for a guitar made from 3 small pieces of wood than for one made from two larger ones. Clever them capitalists.
The D-35 has since it's inception been the Singer-Songwriter Guitar. It's got slightly thinner top braces than the D-28, Martin's Flagship "Country Western" guitar. Jim Croce played a D-35, so did Elvis and Johny Cash.
I better get tuning.