Dan Wesson manufactured some of the finest double action revolvers ever made. They ruled the metallic silhouette croud for some time. For a history of the company and the innovative features of the product see:

http://www.notpurfect.com/main/dwrev.htm
Because the company has gone out of business several times, much of the history has been lost. However, since I promised some folks on arfcom some detail pictures of the differences between a Monson Produced and Palmer produced Model 15 .357 Magnum Revolver, I thought I'd reproduce the post here as well.
Images should be clickable.
1) Rear Face of the Cylinder. The Monson Gun is machined such that each chamber is recessed, similar to, but quite different than the way the old Smiths were made. The Palmer gun was clearly machined in one step.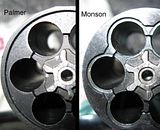 2) Rear sights. The older unit has hex adjustments, and is machined out of a single piece of bar stock, the newer unit has slotted adjustment screws, and the rear sight blade is a separate part.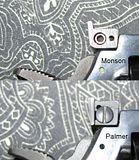 3) Hammer. The Monson unit is serrated, and nicely rounded, the Palmer unit is checkered and more squared off.
Both guns together. The Palmer gun is wearing Hogue stocks.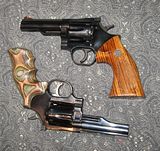 Clearly the Monson gun has those few extra little touches that make it a bit nicer. By the serial number the Monson DW is a reasonably early gun (early 80's) and many of the changes could have been introduced before the move to Palmer.